HONDA FULL MAINTENANCE MINDER SUBSCRIPTION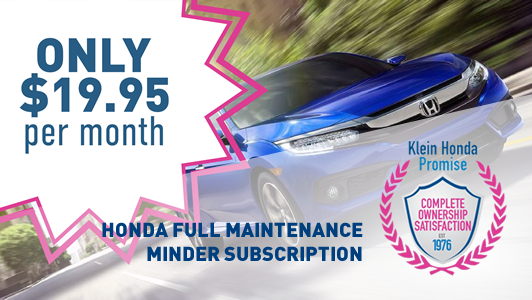 When the Oil life of your Honda reached 15%, a wrench image will display on your dash, along with the Maintenance "Codes". When you are calling into the Honda Motorwerks Service department it is very important that you tell the service advisor what Maintenance codes your vehicle is displaying.
The Maintenance Minder is an important feature of the information display. Based on engine and transmission operating conditions, and accumulated engine revolutions, your Honda's onboard computer (ECM/PCM) calculates the remaining engine oil and the transmission fluid life. The system also displays the remaining engine oil life along with the code(s) for other scheduled maintenance items needing service.
Here is a description of what each individual Maintenance code means for your vehicle. (Please remember that more than one code may be displayed at a time)
A - Replace just engine oil and Filter
B - Replace engine oil and oil filter. Also inspect Brake system and components and perform a tire rotation.
1 - Rotate tires, and check tire pressure and condition
2 - Replace air cleaner element, check drive belt, and replace dust and pollen filter.
3 - Replace transmission fluid and transfer fluid (if equipped).
4 - Replace spark plugs, replace timing belt (if equipped), inspect water pump, and inspect/ adjust valve clearance.
5 - Replace engine coolant
6 - Replace rear differential fluid (if equipped).
CLICK TO ENLARGE IMAGES
$19.95
/mo
---

MMA - REPLACE ENGINE OIL AND ENGINE OIL FILTER

MMB - REPLACE ENGINE OIL, ENGINE OIL FILTER, AND MULTIPOINT INSPECTION

MM1 - ROTATE TIRES

MM2 - REPLACE AIR CLEANER ELEMENT, CHECK DRIVE BELT, REPLACE DUST AND POLLEN FILTER